Report
International Symposium on "Future of Ocean Ecosystem Services"
Robert Blasiak, Graduate School of Agricultural and Life Sciences, The University of Tokyo
The International Symposium on "Future of Ocean Ecosystem Services", held at The University of Tokyo on 1 October 2013 assembled a broad range of experts specializing in various fields related to sustainable ocean management. The lively discussions underscored both the complexity of the issues surrounding the conservation and sustainable use of the oceans, and the urgency of addressing the associated challenges.
Opening the symposium, Prof. Ken Furuya (Dean, Graduate School of Agricultural and Life Sciences, The University of Tokyo) outlined the wide range of benefits being provided by the oceans, but noting the anthropocentric nature of the commonly applied term of "ecosystem services", he introduced the Japanese word "megumi" to characterize the blessings and benefits provided by the seas. Marine systems have been undergoing rapid changes, and further analysis is needed to better understand material cycles, the lifecycles of highly migratory species, and many other issues. To deepen understanding of critical issues like these, the five-year project "New Ocean Paradigm on its Biogeochemistry, Ecosystem and Sustainable Use" (NEOPS) is currently being undertaken by researchers from The University of Tokyo and other institutions. Among other things, NEOPS aims to propose a new ocean management paradigm by classifying the ocean into multiple provinces based on rigorous analysis of material cycles and ecosystem functions.
Over the course of the day's discussions, experts spoke on a range of issues including the extent of biodiversity – both known and unknown – contained within the oceans, the impacts of climate change and ocean acidification, and the changing chemical composition, which has impacts on the primary production of the oceans and can be caused by runoff and deposition of dust from continental environments. A range of initiatives for understanding and assessing ocean ecosystems were also introduced, including the Ocean Health Index launched in 2012, the criteria for identifying Ecologically or Biologically Significant Areas (EBSAs) at the Convention on Biological Diversity (CBD), and Fishery Performance Indicators (FPIs) developed under the World Bank's PROFISH program.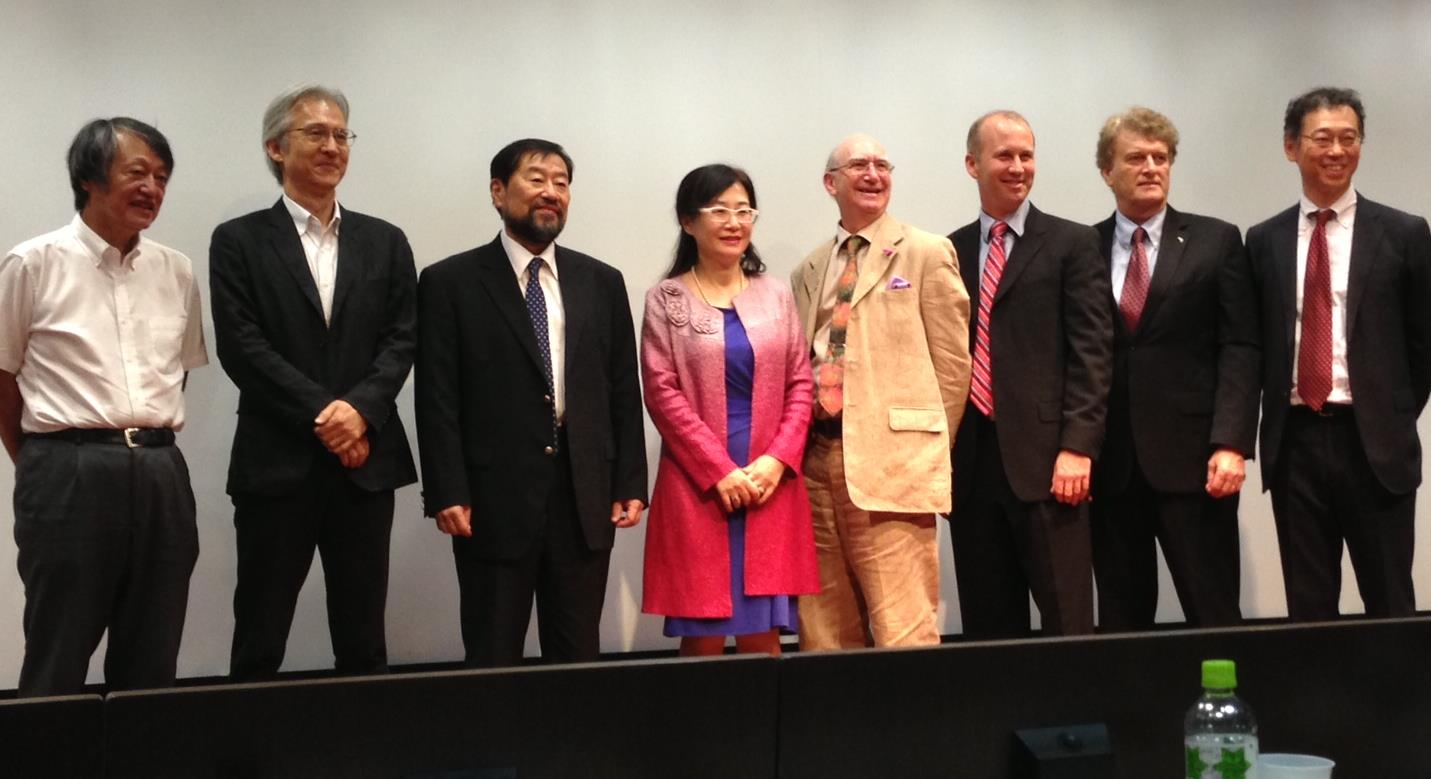 Presenters and moderators from the"Future Management
of Ocean Ecosystem Services"Symposium on 1 October 2013
The complex nature of sustainable ocean management requires effective collaboration and communication between natural and social scientists, but also extends into the spheres of international policy and decision-making processes. To deepen the day's discussions, specialized presentations were also delivered focusing on such policy and governance aspects, including existing gaps and shortcomings within the United Nations Convention on the Law of the Sea (UNCLOS), as well as an in-depth description of the delicate and varied negotiations within international forums to develop internationally recognized decisions and conventions.
A full list of speakers and presentations is available here, and more information about the NEOPS project can be found here. A detailed report about the symposium has also been published by the scientific journal Marine Policy.